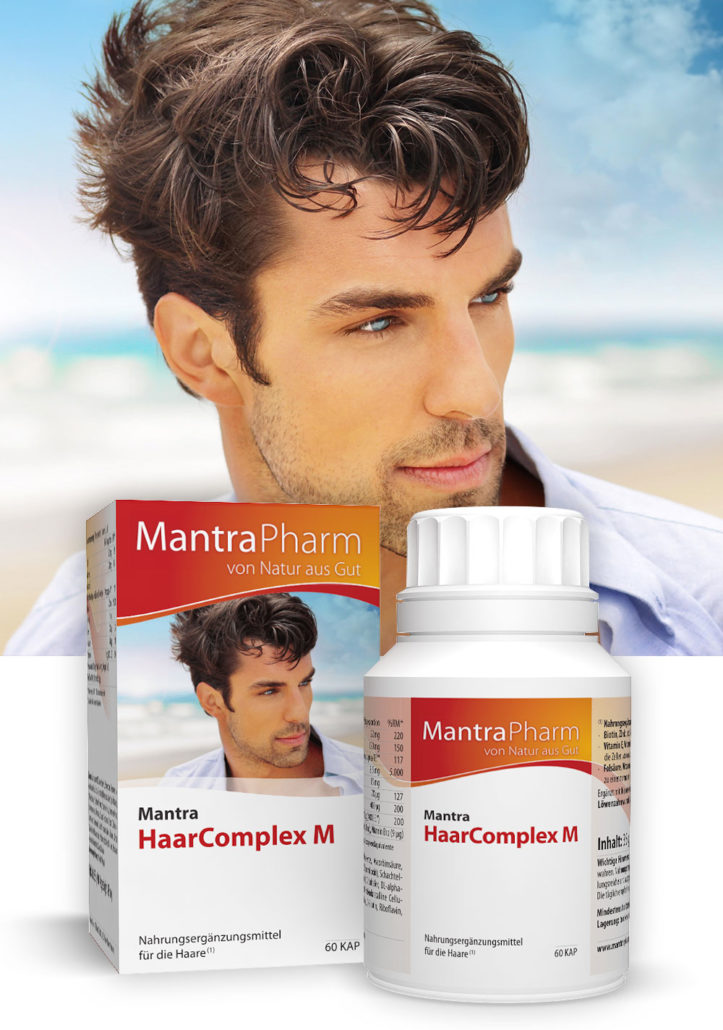 Mantra HairComplex M
Food supplement for the hair.
Biotin, zinc and selenium contribute to the maintenance of normal hair.
Vitamin E, vitamin C, riboflavin, manganese, selenium and zinc contribute to the protection of cells from oxidative stress.
Folic acid, vitamin B6, vitamin B12, vitamin C, vitamin D, zinc and selenium contribute to normal function of the immune system.
Combined with silica, horsetail, chickenwort, nettle, dandelion root, green oats, beta-carotene and L-cysteine.
Zutaten
Zusammensetzung: 1 Tagesportion zu 2 Kapseln (1 g)
Pro Tagesportion
%RM*
* Referenzmenge (LMIV) / ° I.E. = Internationale Einheit 
°° a-TE = Alpha-Tocopheroläquivalente / °°°RE = Retinoläquivalent / °°°°NE = Niacin-Äquivalente
Biotin
2,5 mg
5.000
Zink
6,5 mg
65
Selen
45 µg
82
Mangan
0,5 mg
25
Folsäure
200 µg
100
Niacin
16 mg NE°°°°
100
Vitamin C
120 mg
150
Vitamin B2
1,4 mg
100
Vitamin B6
3,5 mg
250
Vitamin E
14 mg alpha-TE°°
117
Vitamin D3
10 µg (400 I.E.°)
200
Vitamin B12
9 µg
360
Pantothensäure
20 mg
333
L-Cystin
15 mg
Beta-Carotin
2 mg
entspr. Vitamin A
334 µg RE°°°
42
Kieselerde
133 mg
Ingredients:
Coating cellulose (capsule), silica, vitamin C, bulking agent cellulose, zinc gluconate, release agent (magnesium salt of fatty acid, silicon dioxide), horsetail, chickenwort, nettle, dandelion root, green oats, vitamin E, pantothenic acid, ß-carotene, nicotinamide, L-cysteine, vitamin D, vitamin B6, biotin, manganese sulfate, riboflavin, folic acid, sodium selenite, vitamin B12.
Recommended consumption:
1 capsule twice daily.
Package:
60 capsules
Wichtige Hinweise
Refrain from other zinc-containing products. Keep out of reach of small children. Food supplements should not be used as a substitute for a well-balanced and varied diet. The recommended daily consumption should not be exceeded!
Storage:
In a dry place, not exceeding 25° C resp. 77° F, protected from sunlight.
Other products in this category: