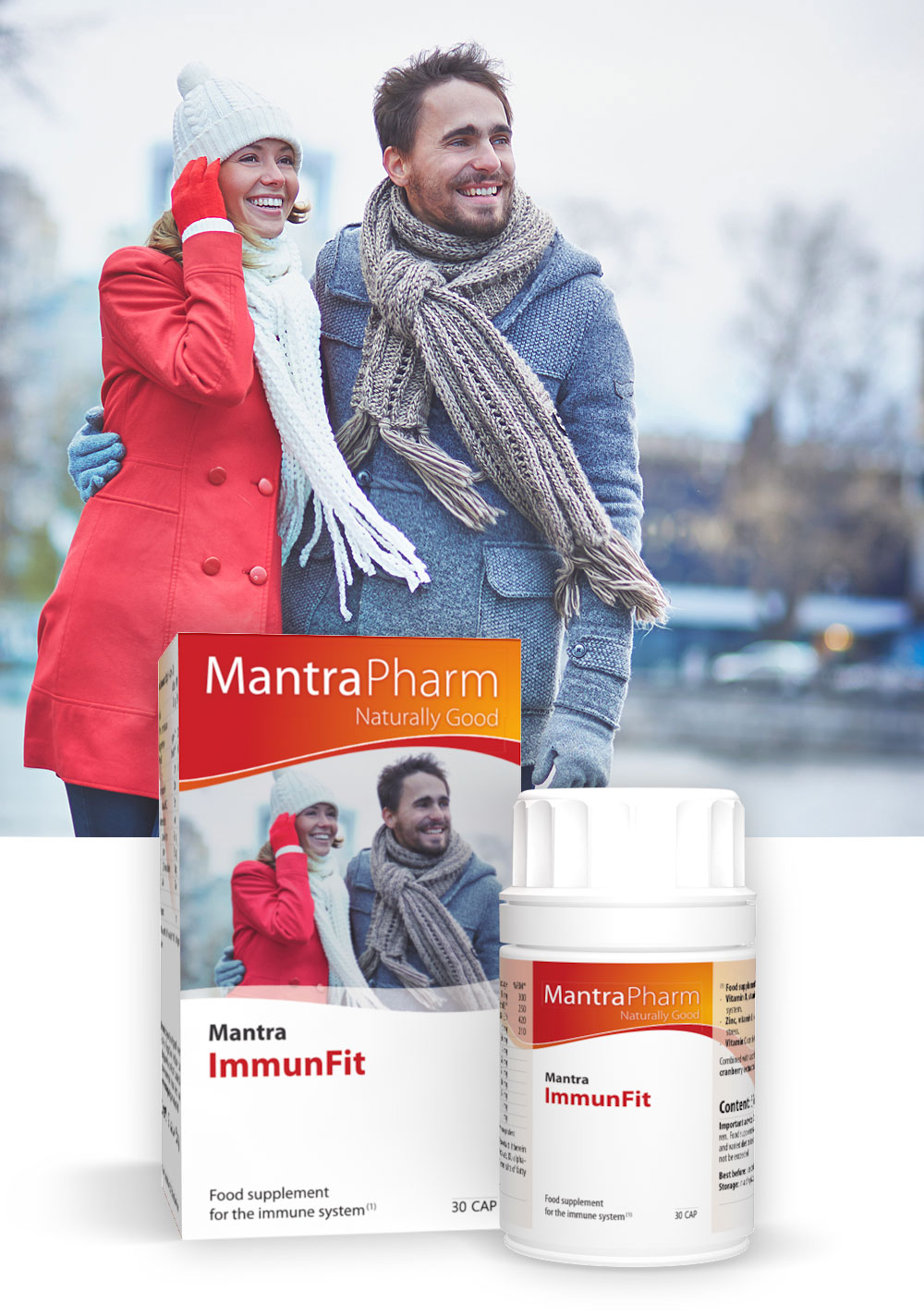 Mantra ImmunFit
Food supplement for the immune system.
Vitamin D, vitamin C and zinc contributes to the normal function of the immune system.
Zinc, vitamin E and vitamin C contributes to the protection of cells from oxidative stress.
Vitamin C contributes to normal energy-yielding metabolism.
Combined with secondary plant substances from cranberry extract and green tea extract and beta-carotene.
Ingredients
Nutritional information: 1 day Portion of 3 capsules (2 g)
Daily dosage
%RM*
* reference quantity (LMIV) / ° I.E. = International Unit /
°° alpha-TE = Alpha-Tocopherol equivalent
Vitamin C
240 mg
300
Vitamin E
(contains inter alia alpha- and gamma-tocopherol)
30 mg alpha-TE°°
250
Vitamin D
21 μg (840 I.E.°)
420
Zinc
21 mg
210
Cranberry extract, therein
600 mg
proanthocyanidins (PAC)
36 mg
Green Tea extract, therein
540 mg
total polyphenols, therein
513 mg
Catechins
308 mg
EGCG (epigallocatechingallate)
154 mg
Coffeine
37 mg
Beta-carotene
3 mg
Ingredients:
Cranberry extract (therein 6% polyphenols), green tea extract (therein 95% polyphenols), coating cellulose (capsule), ascorbic acid, zinc gluconate, DL-alpha-tocopherol acetate, beta-carotene, cholecalciferol, release agent (magnesium salts of fatty acid, silicon dioxide).
Recommended consumption:
1 capsule 3 times daily with food.
Package:
30 capsules, 90 capsules
Important advice
Keep out of reach of small children. Food supplements should not be used as a substitute for a well-balanced and varied diet. The recommended daily consumption should not be exceeded!
Storage:
In a dry place, not exceeding 25° C resp. 77° F, protected from sunlight.
Other products in this category: